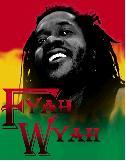 Jethro D HINES -lead vocals ,song writer,Spiritual intercessor.
Benjy Myaz. Producer, Arranger and played bass, guitars , organ and Keyboards,
Mikey Guits lead guitars
Jay willis:Saxophone
Delroy Clark:Producer. Keyboards,
Patrick smith Drums
Doug Lane:Drums.
Macasea Bey: Drums
Larry luther,Barry ohare,jim fox, Engineer ....
FYAH WYAH Good Word Artist™ lives, speaks, and sings in the name of the Most High God...with the unique sound of Jamaican reggae, a tone, A KEY OF SIMPLICITY AND HARMONY that speaks to the human heart universally.